Projects & downloads
You are here:
Projects & downloads → OIDplus 2.0


Project description:
OIDplus is an OpenSource database solution to manage Objekt Identifiers (like "OIDs" or "DOIs"). With OIDplus, you can operate your own "Registration Authority" and either present your objects to the public, or manage them internally (hidden from the public). You can delegate permissions to subordinate objects to other users (RAs) in the system, so that they can work independently.
The
ViaThinkSoft Registration Authority
already uses OIDplus 2.0 and even gives users the possibility to gain a
free OID
.
Daniel Marschall
ViaThinkSoft Co-Founder
Screenshots of the projekt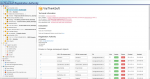 Downloads related to this project