Projects & downloads
You are here:
Projects & downloads → OIDplus 2.0


Project description:
OIDplus is an OpenSource database solution to manage Objekt Identifiers ("OIDs") and many other object types (e.g. COM+ GUIDs). With OIDplus, you can operate your own "Registration Authority" and either present your objects to the public, or manage them internally (hidden from the public). You can delegate permissions to subordinate objects to other users (RAs) in the system, so that they can work independently.
The
ViaThinkSoft Registration Authority
already uses OIDplus 2.0 and even gives users the possibility to gain a
free OID
.
We are grateful for every person that wants to install OIDplus on their systems, as we love to see our product spreading and receive feedback about the user-experience. Therefore, if we can help you with installing OIDplus and migrating your data into OIDplus, please let us know. We will support you with this, free of charge!
Downloading/Updating using SVN (recommended):
svn co https://svn.viathinksoft.com/svn/oidplus/trunk/
System requirements:
- PHP compatible web server (tested with Apache 2, nginx and Microsoft IIS)
- PHP 7.0 or higher
- with extension GMP or BCMath
- with extension MBString
- with extension SimpleXML
- with extension MySQLi, PostgreSQL, SQLite3, PDO or ODBC
- Database: MySQL/MariaDB (recommended), PostgreSQL, SQLite3 or Microsoft SQL Server
- Independent of operating system (tested with Windows and Linux)
Show demo system
Daniel Marschall
ViaThinkSoft Co-Founder
Screenshots of the projekt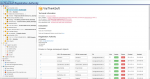 Downloads related to this project
Feedback? Problems? Please drop us a message!