Projects & downloads
You are here:
Projects & downloads → Evolis Pebble4/Dualys3/Tattoo2 Driver Patch for Windows 10


Project description:
The 64 bit drivers of the card printers Evolis Pebble 4, Evolis Dualys 3 and Evolis Tattoo 2 are working with Windows 7, but in Windows 10, the selection of a single color ribbon leads to a crash. Therefore, you cannot use the driver to print with single-color ribbons! This inofficial patch fixes the problem.
Daniel Marschall
ViaThinkSoft Co-Founder
Screenshots of the projekt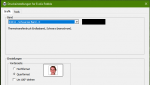 Downloads related to this project
Feedback? Problems? Please drop us a message!